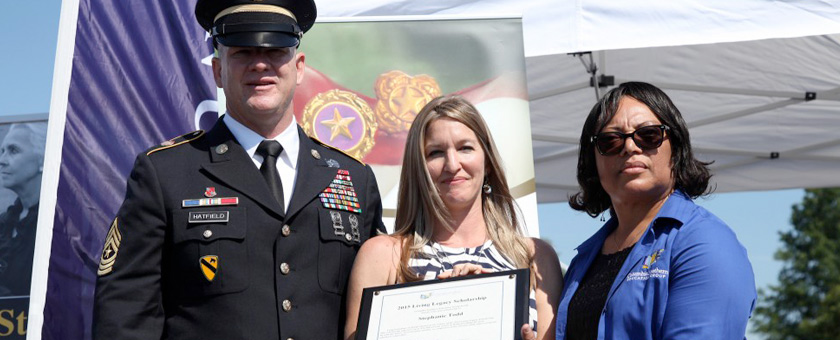 Living Legacy Scholarship Winner Honors Sibling
Columbia Southern Education Group (CSEG) and the U.S. Army Installation Management Command Survivor Outreach Services (IMCOM) presented the first Living Legacy Scholarship to a surviving family member of fallen hero, Army Sgt. 1st Class David Todd during the Rolling Thunder "Ride for Freedom" motorcycle rally in Washington, D.C.
The Living Legacy Scholarship is awarded to a family member of a fallen service member that demonstrates how receiving the scholarship would honor their loved one and help achieve their own education aspirations.
"Columbia Southern Education Group has a strong belief in supporting our military men and women. Our services members make sacrifices for our country so that we are provided freedoms, including the opportunity obtain an education," said Chantell Cooley, senior vice president of CSEG.
CSEG is honored to be able to provide a scholarship to family members of those that have made the ultimate sacrifice. "The 2015 Living Legacy Scholarship was awarded to Stephanie Todd from Saint Hedwig, Texas," said Cooley. Dr. Lillie Cannon, director of business development for CSEG and Michael L Hatfield, IMCOM Command Sergeant Major presented the scholarship to Todd in Washington, D.C. "Being able to support family members like Stephanie, allows the opportunity for families to continue their loved ones powerful legacy with the gift of an education."
Stephanie applied for the Living Legacy Scholarship to honor her late brother, Army Sgt. 1st Class David J. Todd, Jr. He sacrificed his life for other US military men in battle in 2008.
"We chose Stephanie for the Living Legacy Scholarship because of her intentions to work with great purpose, pursuing her passion and inspiring others, all while learning business acumen through her education," said Cooley.
The Living Legacy Scholarship will provide Stephanie Todd the opportunity to pursue her education and career goals. Todd is honored by the scholarship and said, "When people work with such passion and compassion, their spirit is contagious, they become natural born leaders in their communities. David taught me the importance of learning. That leadership also comes from a humble desire to learn from others and then share that knowledge." Todd hopes to live life just like her brother.
Todd will be furthering her education by pursuing a bachelor's degree in business management at Waldorf College with the ultimate goal of starting a non-profit organization to honor fallen soldiers like her brother.
"I need a business degree to learn how to build business plans and understand financials and operations," she added.
Stephanie currently lives in San Antonio, Texas, and will complete her studies through Waldorf.